<< Back to Calendar
Enabling Change as a Project Manager (Regardless of the change, the stakeholders, their appetite for change, or yours!)
This is a Webex online meeting.  If you haven't participated in a WebEx meeting previously then you can test your computer here. The meeting link will be sent out to all registered attendees 1 day prior to the meeting and then again an hour prior to the meeting.  Please make sure that your PMI profile has your current email address as that will be where the invite is sent.
Typical Agenda:
7:15 AM: Webex Open for Discussion and Networking
7:30 AM: Welcome/introductions/announcements
7:35 AM  Featured Presentation
8:30 AM: Adjourn
Topic Overview:
Change appetites vary, and changes can be hard. But they don't have to be. Equipped with a few simple concepts, PMs can help enable change in their organizations.
Defining the terms makes it change simpler.
A growth mindset helps with any change.
A people-positive attitude helps with any stakeholder.
Envisioning change as a journey helps set the stage for the messages we need when going through transition, and helps others hear what they need to hear, right when they need it most.
This engaging look at the processes many people go through around change and the messages that help them move forward will help you look at change a little differently, with the end goal of improving your own ability to help others through the transition process – regardless of the magnitude of the change or the change appetite of those facing it.
Objectives:
By attending this course, participants will:
Encounter common symptoms of change and transition as well as indicators of change appetite – and what to do about them.
Explore how your attitude and mindset can be leveraged to help the attitude and mindset of others.
Gain a simple, easy-to-replicate model that offers both strategies and tactics to help bring those around you through change successfully.
Facilitator: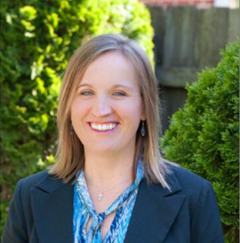 Sinikka Waugh
Founder, Owner, Trainer, and Coach
Sinikka Waugh, president and founder of Your Clear Next Step, spends her days helping people have better workdays. Trainer, coach, business leader, and difference-maker, Sinikka is known for consistently helping people improve their emotional intelligence and find innovative ways to solve problems and get things done at work.  Putting her background in languages, literature, and project management to good use, since 2006 Sinikka has provided compassionate leadership in transformation initiatives. Her clients value how her results-driven professionalism blends seamlessly with her down-to-earth, "try this now" approach and her relentless passion for helping others achieve even better. Her class participants describe her as energetic and engaging (even over Zoom!). Sinikka holds a BA from Central College, an MA from the University of Iowa, and is a certified Project Management Professional through the Project Management Institute (PMI). Sinikka and her husband Spencer live in Indianola, Iowa with their two teenage daughters.  The team at Your Clear Next Step lives the company's core values of being intentionally reliably useful, approaching problems with creativity and the art of the possible, being positive people-people, and demonstrating humility alongside confidence as they deliver training and coaching to their clients in central Iowa and around the world. 
Registration Information:
Registration Information is sent to your PMI.org profile email address unless you modify the email address during registration.  Update your PMI profile here. to ensure it is sent to the correct email address.
Conference Bridge Information:
PMI Phoenix Chapter events use a conference bridge that requires that you register prior to the event.  There is a registration link in the confirmation email.  Once you register the conference bridge will send you a meeting invite with the bridge information.
Event Questions:
Please send all questions for the event via email.
PMI PDU Reporting:
PMI Phoenix Chapter Members will have their PDU's reported automatically for PMI Phoenix Chapter hosted events with the exception of breakfast meetings, partner events or noted otherwise.  All others will need to self-report.
Non-Member Registration:
Anyone who is not a PMI Phoenix Chapter member will need to register as a non-chapter member and self-report.
Attendance by Phone:
If you dial into a meeting by phone then your name will not show up on the conference bridge registrant list.  You will need to email events@pmiphx.org to let us know you attended to get your PDU.
It is no longer possible to register for this event